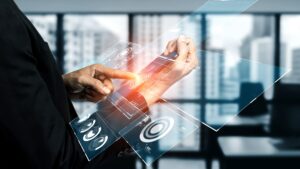 The pandemic has shown us that digital transformation is no longer optional for businesses that want to remain competitive. In this blog post, we'll look at some of the top untold challenges faced by digital laggards in the post-pandemic era, and strategies to overcome them.
Identifying Top Challenges Faced by Digital Laggards in the Post-pandemic Era
One of the main challenges faced by digital laggards in the post-pandemic era is a lack of understanding of the importance and value of digital transformation. Without an understanding of the potential benefits, companies may struggle to implement digital tools and processes necessary for business growth and success. As technology becomes increasingly ingrained in business operations, those who do not embrace digital innovation are at greater risk of being left behind.
The pandemic has accelerated the digital transformation process for many businesses. But there are still some businesses that are lagging in their journey.
The impact of trying to resist digital transformation can be enormous. From losing business opportunities, going through difficulties with business growth, or/and being overwhelmingly defeated by competitors, to consequences such as the end of the business.
Strategies to Overcome Untold Challenges as a Digital Laggard
Digital laggards face challenges such as difficulty adapting to the changing digital landscape and changing customer expectations due to lack of change and growth mindset in the organization. To stay competitive, business leaders must not only invest in digital strategies that will improve their operations, maximize efficiency, and drive business growth. It is also essential to drive cultural transformation across the organization, transmitting to its employee's knowledge about the importance of digital transformation for the future of the organization.
Furthermore, to ensure success as a digital laggard, organizations need to focus on developing a strategic roadmap for their digital journey. Make sure to align the digital transformation roadmap with the CEO and leadership team's vision, right from the start; Take stock of your current state, what is working and what still needs to improve; Set comprehensive goals; Secure a High-Caliber launch team; Make sure to use the proper software tools.
For the success of this journey, the company must include strategies for leveraging digital solutions that will drive growth, improve customer experience, and enhance operational efficiency. Additionally, companies must start incorporating best practices from digital innovators and be open to rapid change to keep up with the ever-evolving digital world. Keep in mind that typically, the first few months of your transformation process are crucial and often set the pace for the entire process. Organizations at the top of successful digital transformation achieved 28% of the digital initiative's value in the first three months.
Moreover, organizational leadership should foster an environment that encourages experimentation with new technologies and promotes ongoing learning opportunities for employees to stay ahead of digital trends. By taking such initiatives, digital laggards can bridge the gap between those who are ahead in the digital space and those who are not.
Final Say
In conclusion, digital transformation is a challenge for many businesses in this post-pandemic era. There are many challenges that can be difficult to overcome, but by prioritizing the customer's needs, investing in new technology, and having a clear vision and strategy, businesses can overcome these challenges. It's not easy, but with the right strategies in place, it's possible to make the leap into the digital world.